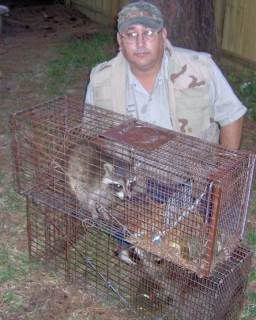 With one word most wildlife problems are the result of lack of "maintenance". Here is a list of a few things I often see while inspecting homes with wildlife living in their structures.
1. Branches or trees up against the building or extending over a roof.
2. Old vents that have rusted out or destroyed by birds, squirrels, raccoon, possums , rats and so many other vermin.
3. Access left behind air conditioners, pipes & cables protruding into homes and garages.
4. Garage doors that don't seal or are actually broken and do not close. The rubber seal on the bottom of garage door chewed up (I fix these cheaper then having to buy a whole new garage door with rubberized metal sweeps).
5. Broken screening or frames in a state of disrepair.
Bottom line if you leave them a hole and it gets cold they will find a way in. Repairing these items will keep wild animals & birds out of your home.
If you need these repairs just call Robb Russell who services the entire North central Florida Area from Live Oak to McClenny, Starke, Keystone Heights, Waldo , Hawthorne, Gainesville, Brooker Ocala, Newberry, Trenton, Branford, Fort White, High Springs, Alachua, Lake Butler, Lake City, Williston, Chiefland and Mayo.
We are family business and family oriented both of my two sons help and learn from dad on the job! I keep them off the streets and teach them a trade and how to use tools and help the public.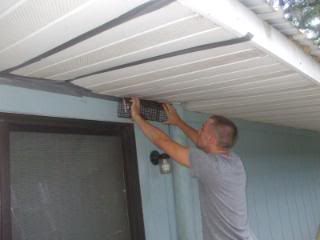 Wayne is a Senior, loves to work woth tools and resolve Wildlife problems alongside Dad.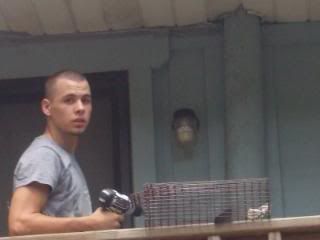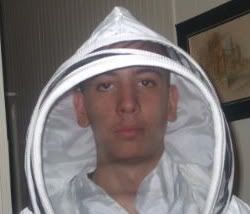 My 15 year old son, Ed like me is beekeeper and removes live bees from structures and off landcapes.
I recommend for services in the remainder of Florida, Mississippi, New York, Connecticut, Illinois, Missouri, Wisconsin and California visit my sister company http://www.anytimeanimalcontrol.com and http://losangelesanimalcontrol.com .